Mayura Draw
Vector drawing program for creating publication-quality EPS illustrations.
Mayura Draw is a vector-based drawing program. Unlike bitmap-based "paint" programs, vector-based drawing programs define each object that constitutes the drawing by its co-ordinates and not by pixels. This enables drawings to be modified easily. Vector based drawings also print at the highest resolution supported by the printer.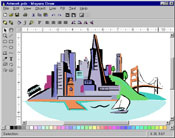 Using Mayura Draw you can create illustrations composed of graphical shapes such as rectangles, ellipses, polygons, bezier curves, images and text. Mayura Draw has powerful tools for editing and transforming graphical shapes. All shapes including images and text can be scaled, rotated, skewed and reflected. Mayura Draw supports editing bezier curves by manipulating handles.
Printer friendly
Mayura Draw was built from the ground up to generate clean PostScript. You can export drawings in EPS format for easy inclusion in LaTeX, Microsoft Word, and other word processors.
Web friendly
SVG files generated by Mayura Draw 4.5 are compatible with Internet Explorer, Firefox, Chrome and Safari.
Interoperable
Mayura Draw can export your drawings in Adobe Illustrator (AI) format. It can also import AI files created by other applications such as Mathematica and gnuplot.
Import: AI, WMF, GIF, JPEG, PNG, TIFF and BMP formats.
Export: SVG, EPS, PS, AI, PDF, XHTML, WMF, EMF, GIF, JPEG, PNG, BMP and TIFF formats.
Compatibility: Windows 11, Windows 10, Windows 8, Windows 7.
LaTeX friendly: EPS files generated by Mayura Draw are suitable for including in LaTeX documents.

Mayura Draw 4.5 can create XHTML files containing vector graphics. XHTML files can be opened in all modern web browsers including Internet Explorer, Firefox, Chrome and Safari.


Download free trial

30-day free trial. Shareware registration $39

Mayura Draw 4.5 for Windows (approximately 1.3 MB)


Registration

To submit registration fee online visit online registration

Mayura Draw 4.0 is available in these languages:
French (Translation courtesy of Laurent Coudeur.)

Mayura Draw 3.1 is available in these languages:
Italian (Translation courtesy of Luca Cassioli.)
German (Translation courtesy of Torsten Kuehn.)
Russian (Translation courtesy of Serge Winitzki.)

Mayura Draw mentioned in books




Mayura Chess

Play chess against your computer using Mayura Chess!





Got a database? Use Visual DB database form builder to build data entry forms.




Contact us

Send e-mail to: